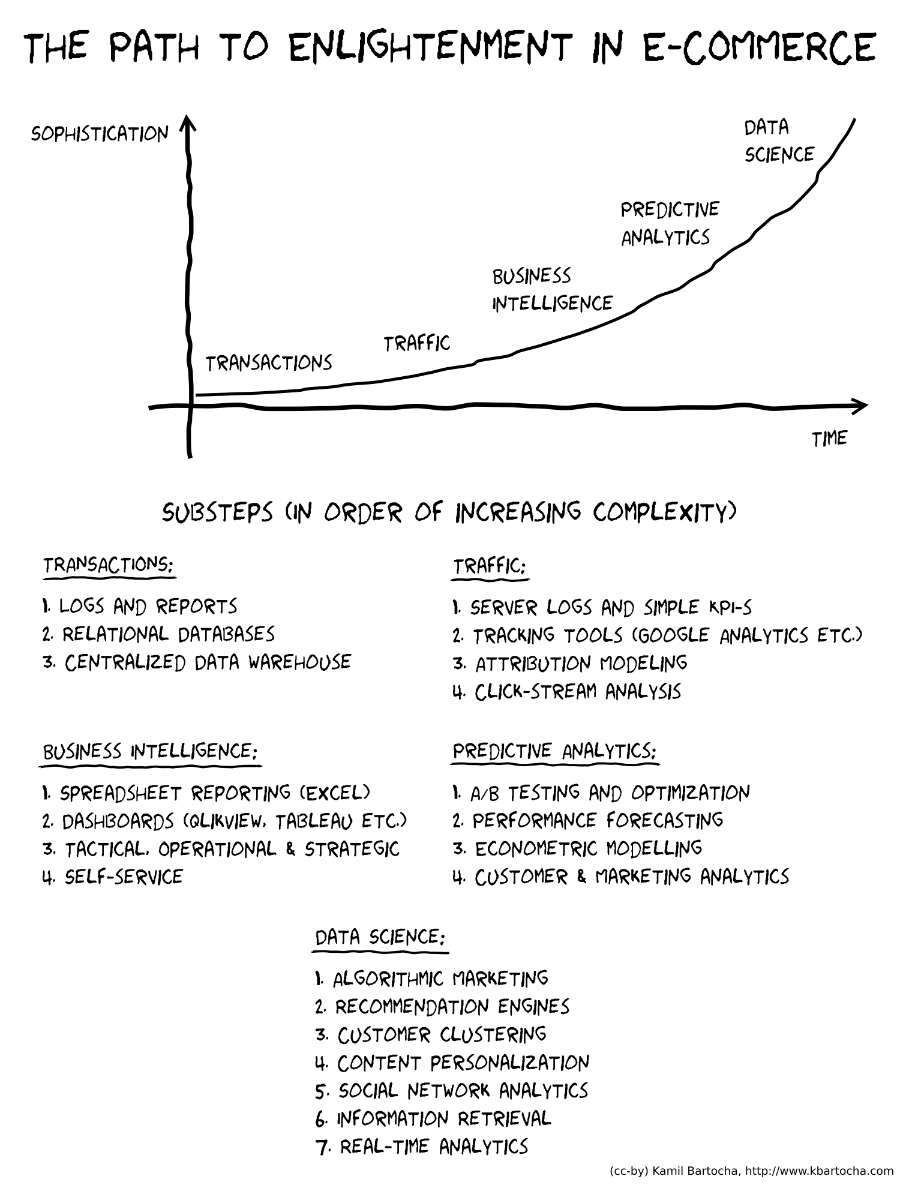 Building an analytics organization is a long and difficult journey. Where should you invest your time and resources? Is it building a Data Warehouse, getting QlikView or Spotfire to host that shiny dashboard or maybe hiring crazy-smart data scientists to crunch your numbers?
There is no simple answer, but if it is a journey, then there must exist a map to give you a sense of direction. For e-commerce websites, it is possible to rank initiatives in the order of complexity:
Report on your transactions.
Understand the traffic that arrives to your website.
Introduce Business Intelligence and Performance Reporting.
Use Predictive Analyics to understand the drivers behind past, present and future events.
Invest in Data Science to stay on the bleeding edge and push the boundaries.
Each area can be split into multiple levels of sophistication:
TRANSACTIONS:
Use logs and transaction reports.
Create relational databases to host your data.
Build a centralized datawarehouse.
TRAFFIC:
Use server logs and simple metrics.
Install specialized tracking tools like Google Analytics, Adobe Omniture etc.
Attribution Modeling
Click-stream analytics
BUSINESS INTELLIGENCE:
Simple spreadsheet reporting (Excel FTW!).
Invest in reporting tools (QlikView, Tablau etc.) and build dashboards.
Introduce 3-tier reporting structure: Tactical, Operational and Strategic.
Provide self-service tools to the business.
PREDICTIVE ANALYTICS:
A/B testing and optimization
Business performance forecasting
Econometric modeling (e.g. for digital and offline channels).
Customer and Marketing analytics
DATA SCIENCE:
Algorithmic marketing
Recommendation engines
Customer clustering
Content personalization
Social network analysis
Text mining and information retrieval
Real-time analytics
You do not need to tick all the boxes in one area to move to the next, but try not to jump head first into Data Science without having a solid foundation.